---
Turning your memories into treasured art.
---
Dreaming of turning some of your favourite photos into hand painted artwork? I can help!
. . . or choose from my orignals, prints or greeting cards.
Commissions
---
Custom artwork from photos is the perfect way to celebrate special memories. I consider it an honour to capture a personal story through a commissioned portrait or artwork and am confident that each piece conveys a sense of belonging and nostalgia, regardless of the subject. I work in charcoal, watercolour, and acrylic depending on your preferences, and would love to work with you. Have a look at some of my past work.
---
---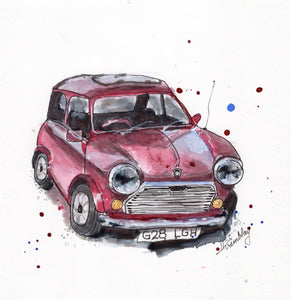 3 Cards Bundle- Any 3 Blank Greeting Cards
---
Hi! I'm Haike
Welcome to my studio. I am fascinated with heirlooms and memorabilia and creating unique artworks from your keepsakes and photos. Whether it's a treasured teacup from grandma turned into a delicate watercolour or a faded travel photo given a new life as an ink sketch or bright gouache painting, I help people honour and celebrate their memories and histories. Need a unique gift for yourself or someone special? I would love to work with you.
Thank you for being here. Subscribe to my newsletter and receive advance notice about new collections, classes and events.
Get the full story